When we met with Legal Aid to begin discussions around their new website, we were immediately overcome with the amount of passion and joy they bring to the work they do. As a non-profit organization that has provided free legal services to low income families around Northeast Ohio for over 100 years, they handle civil cases that impact basic needs such as health, shelter, safety, economics and education.
Their website, which had been built upon itself over the last 11 years, needed to meet the needs of anyone who visited – a prospective client, volunteer, donor or community member. We needed to create a site that could not only meet the needs of each audience and be user-friendly, but be built on top of the existing structure, platform and content.
We initially met with a small portion of the Legal Aid team to talk through the current site and why it no longer met their needs. A few meetings and interview sessions with a few team members from each department allowed us to gather the necessary information and functionality that each department desired for the new website. Working closely with Legal Aid's key stakeholders, wireframes and sitemaps were developed for each section of the new site, then reviewed and distributed for further discussion amongst each department's leadership team. Over the course of a few weeks, the site restructure had begun to fall into place. With our mindset focused on empathy for the website visitor, the majority of the site restructuring focused on clear language and accessibility of legal resources and information.
Get Help 
Get Help is a section that focuses on exactly that – getting help with a legal situation, understanding the legal system, requesting help and so forth. Over the past few decades, Legal Aid has created hundreds of resources, literature and materials to help their clients. What they desired was a better way to get those materials to the clients who needed them most.
Many of the self-help resources, brochures and FAQs available to website visitors were previously funneled into a single topic under a hidden Resources section. What caused some confusion and difficulty was the location and organization of these resources. Many of the resources were tagged by a topic that made sense to one person, but maybe not another. For example, tax information might make sense as a 'Money' topic to one client, and 'Work' to another.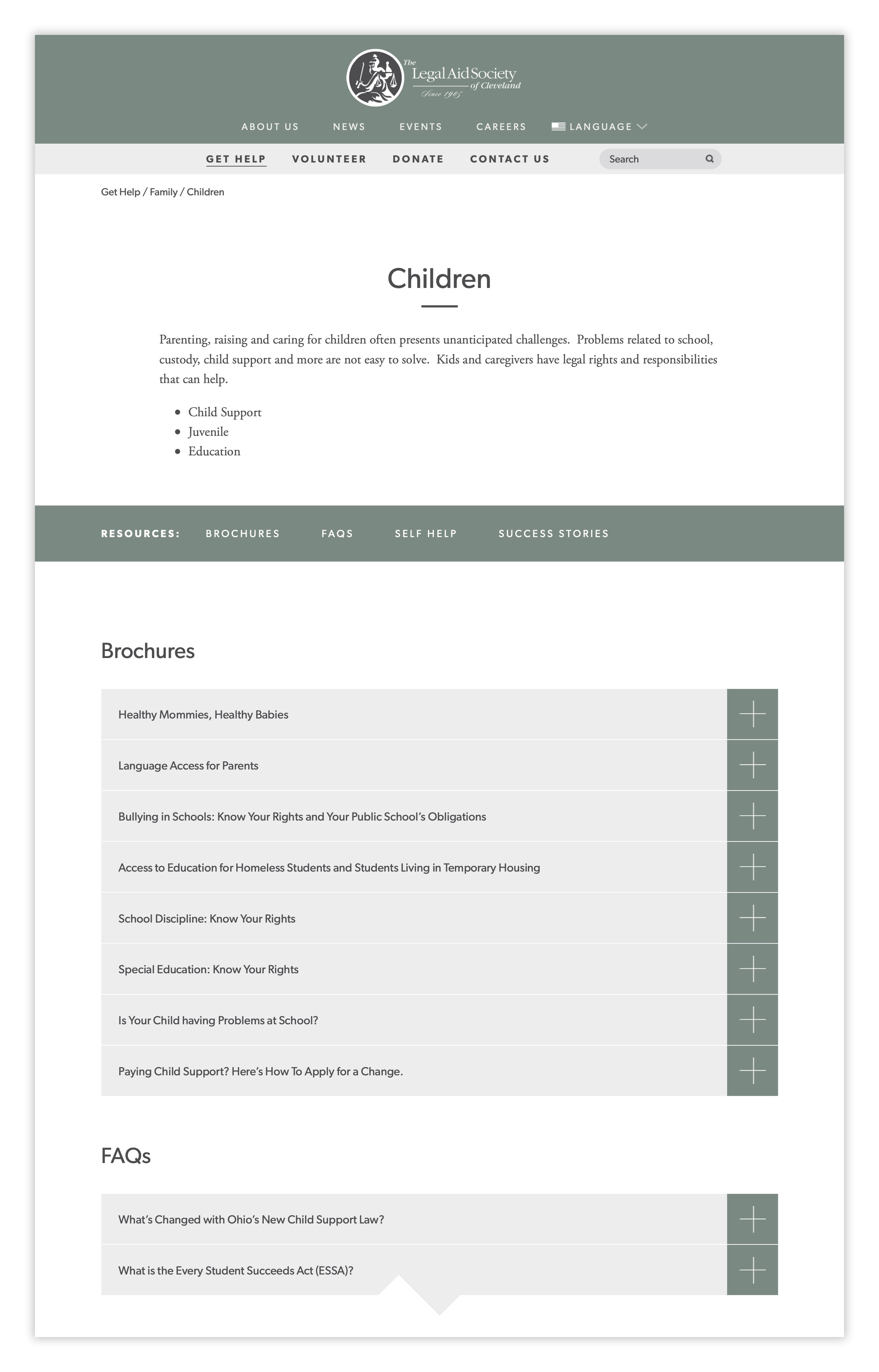 When prospective clients called asking for help on a specific topic or question, Legal Aid staff actually went into the back-end of Wordpress, found the resource or material, and sent it directly to the client. The website resources section was so hard to navigate, even the staff didn't want to use it!
Our new Get Help section allows visitors to easily find information around any topic. Sub-topics allow users to drill further into specific information around frequent problems or issues. Our updated structure allows resources to be tagged by multiple topics or sub-topics enabling users who may think of a resource differently to be located within the site.
Sub-topic pages include categorized resources by type – brochures, FAQs, self-help and success stories. Users can select any resource to view more information, share or even download and print the information.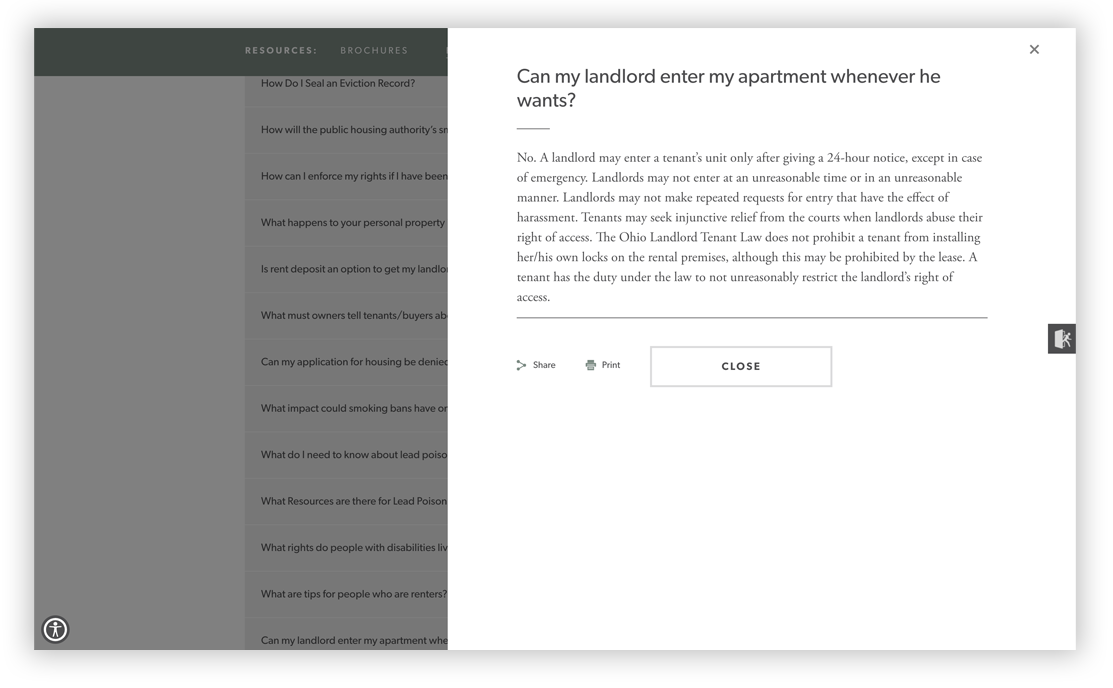 Language
While Legal Aid clients are low income and vulnerable, many of them also struggle day-to-day with a language barrier. Utilizing the out-of-the-box Google Translation services was not an option – on a few occasions, it was actually translating incorrect legal advice. With the new site update, Legal Aid's translators can enter corrected translations for each page, where necessary, eliminating the worry that comes with a browser plugin.
Quick Exit
Many of the topic & sub-topics resource pages include information regarding private or personal matters. A Quick Exit button allows visitors to quickly exit the site, for website visitors who may worry about someone watching over their shoulder or perhaps next to them on their mobile device. For the safety and privacy of website visitors, instead of suddenly closing out of the internet browser, which might create suspicion from an abuser, users can select the Quick Exit button to open a new tab and navigate away from the Legal Aid website.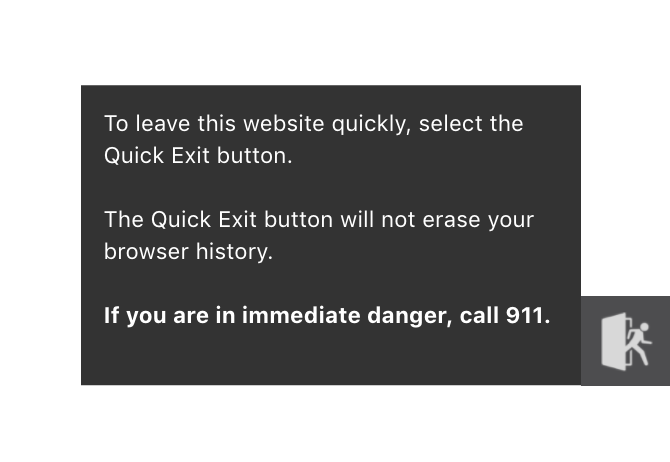 Volunteer 
The updated volunteer section provides information around each type of volunteer opportunity. Prospective and current volunteers can also view FAQ resources, similar to the Get Help sub-topics. With the integrated case management system, volunteer attorneys can apply for a case directly on the website, streamlining their case submission process. 
Events 
Without a clear landing page to house their Brief Advice Clinics, outdated content and past events oftentimes displayed in search engine results. The new site implemented a new Events landing page with tags and filters to quickly view events by type. 
Along with the usual date, time, location and description, a volunteer tag displays for events which require volunteer help. Sign up forms on each event detail page easily allows Legal Aid to capture interested volunteers by event.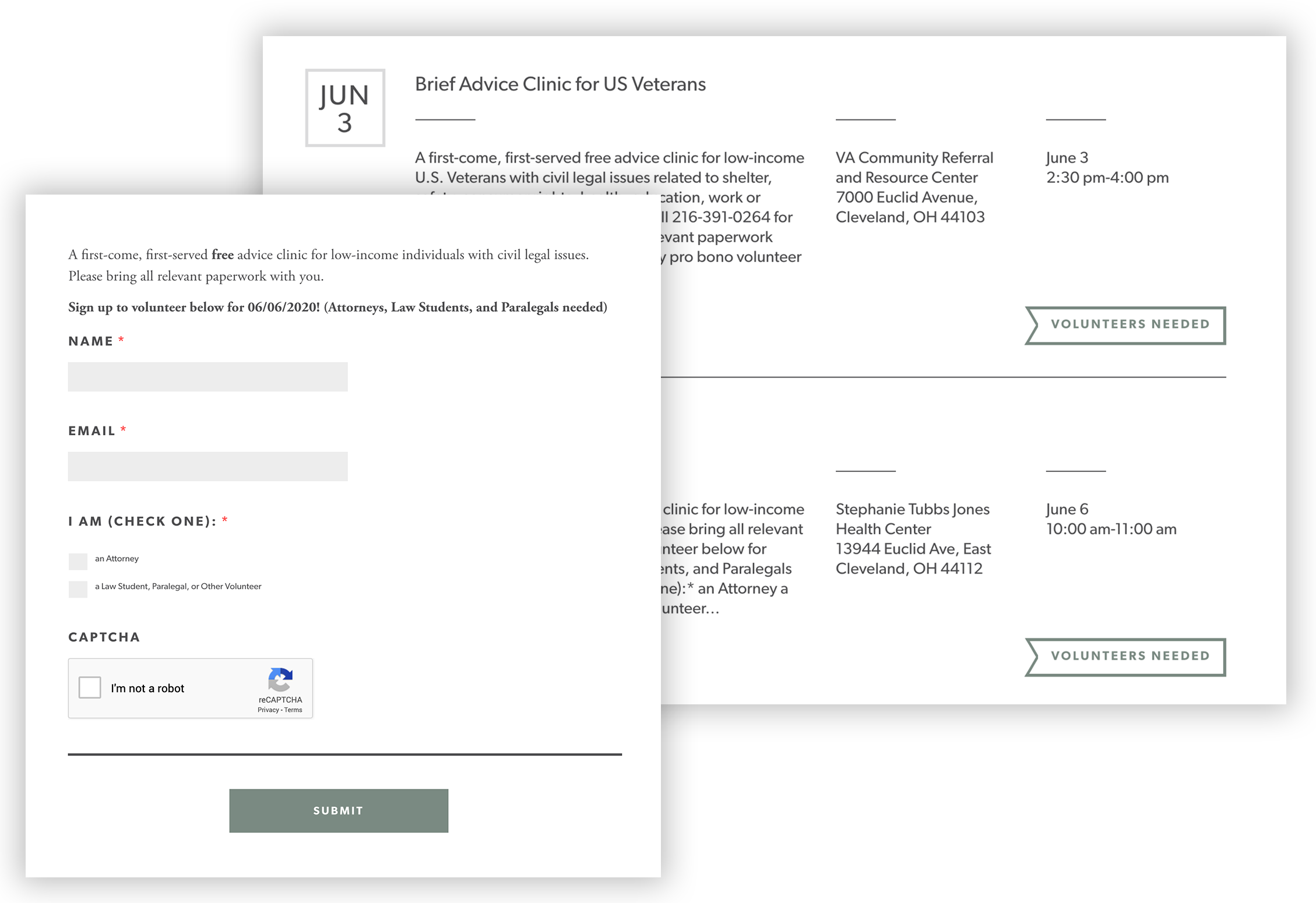 Wrap Up
The final site design was heavily influenced by the simplicity of Legal Aid's brand standards. The site – which was once loud and cumbersome – became approachable and relatable to its target audiences. Soft colors and areas of whitespace allow visitors to skim the page and quickly navigate through areas of large content. 
Search fields display auto-complete results to allow users to quickly select find answers to a text string. Simple language with large, clear call-to-actions prompt users to learn more about specific topics.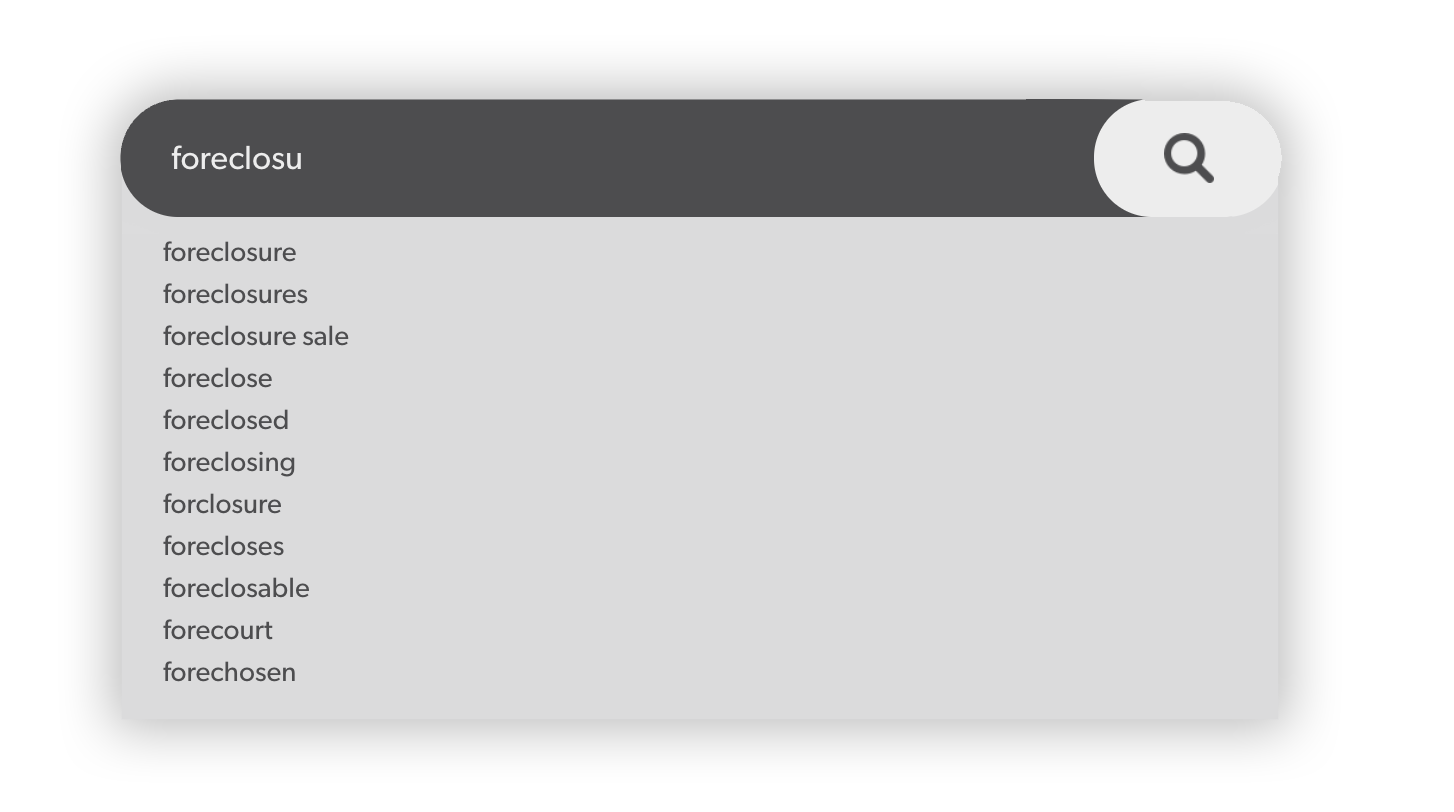 A fresh set of icons brought new life to once-stale brochures and self-help materials. Placed into the website, the icons allow users to quickly locate topics and materials that interest them.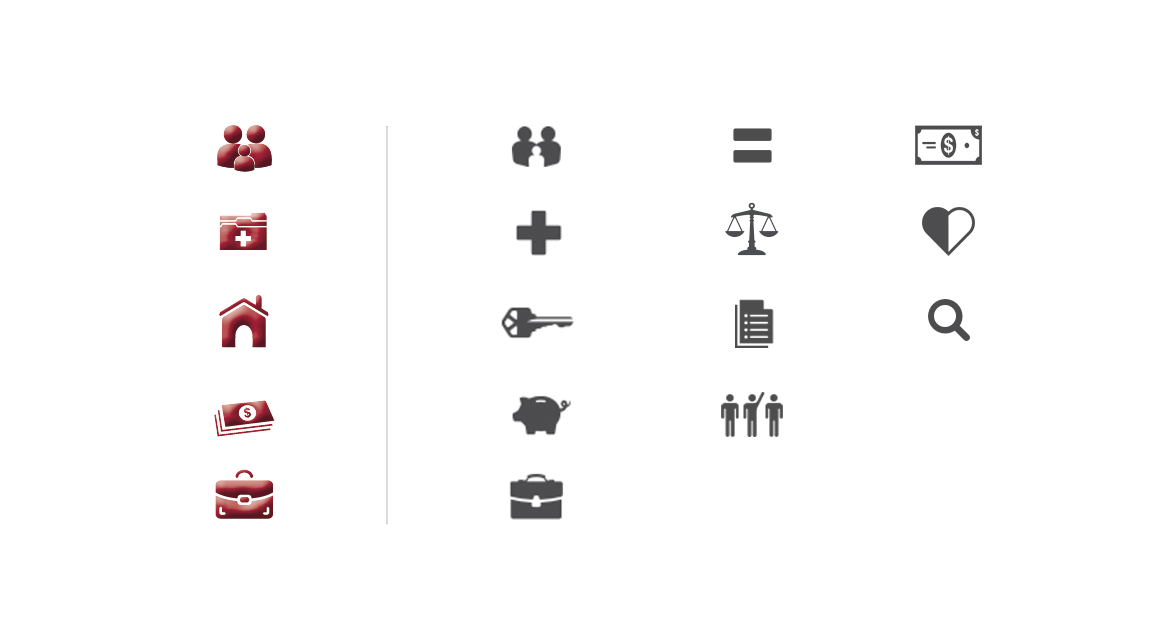 For more about Legal Aid, visit their website here.